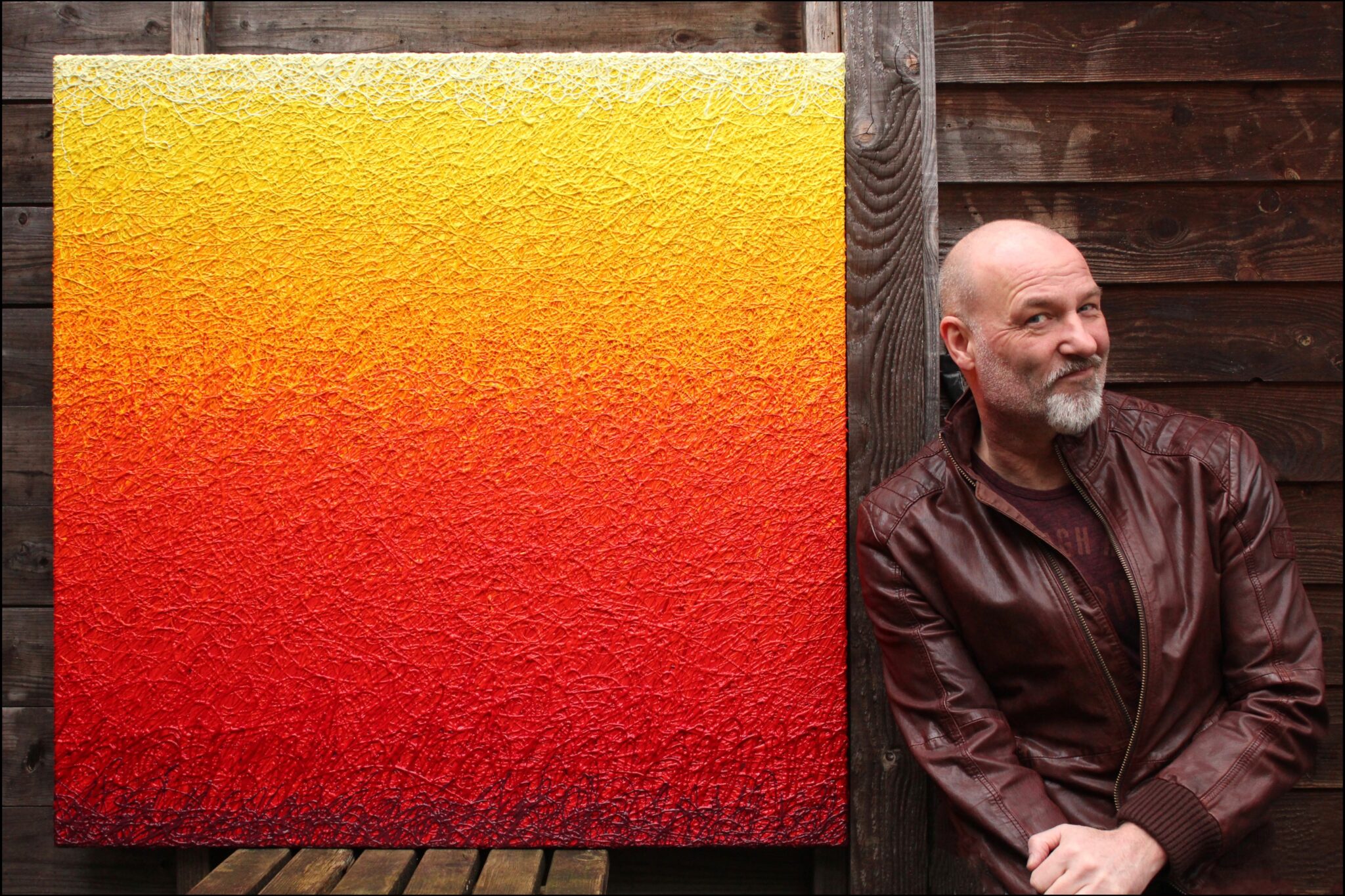 Even Though Eddy Zoey is easily one of the most notable Dutch TV and Radio presenters, having hosted a wide range of shows over the past 20 years. Ever since he finished the art Academy, He has always been a multi-disciplinarian artist, having scored multiple hit-singles as a musician, working as a voice-over artist for National Geographic and Eddy has also never stopped painting throughout his career, finding once again international acclaim with multiple expo's in Holland but also o.a: Viena, HongKong, Beijing and Denmark. Zoey's art is perhaps best described as contemporary Pop-art cycling restlessly through various sub-styles. Much Like Eddy's constant mixing of disciplines like: music production, theater production, Radio DJ-ing etc, His art can make leaps and bounds always charging forward to the next experiment. A period of Pieces infused with the feel of Mondriaan, may make way for a Calligraphic tone with Jackson Pollock vibes.  Eddy's art is full of surprises. Like the man himself!
Ondanks dat Eddy Zoey gemakkelijk één van de meest opmerkelijke Nederlandse tv- en radiopresentatoren is, die de afgelopen 20 jaar een breed scala aan programma's heeft gepresenteerd. is hij altijd een multidisciplinaire kunstenaar geweest, met meerdere hit-singles als muzikant, een heel euvre als voice-over artiest voor o.a. National Geographic en Eddy is ook nooit gestopt met schilderen gedurende zijn carrière, waarbij hij opnieuw internationale erkenning kreeg. Met meerdere tentoonstellingen in Nederland, maar ook in o.a: Wenen, Hong Kong, Beijing en Denemarken. Zoey's kunst kan wellicht het beste worden omschreven als hedendaagse Pop-art die rusteloos door verschillende sub-stijlen fietst. Net zoals Eddy's constante mix van disciplines zoals muziekproductie, theaterproductie, radio-DJ'en, enz., maakt zijn kunst sprongen en stappen en gaat hij altijd voor het volgende experiment. Een periode van werken doordrenkt met de sfeer van Mondriaan, kan plaatsmaken voor een calligrafische toon met Jackson Pollock-vibes. Eddy's kunst zit vol verrassingen, net zoals de man zelf!
Wat betreft de toekomst: Eddy blijft nieuwe dingen opstarten, en al z'n voorgaande disciplines combineren.