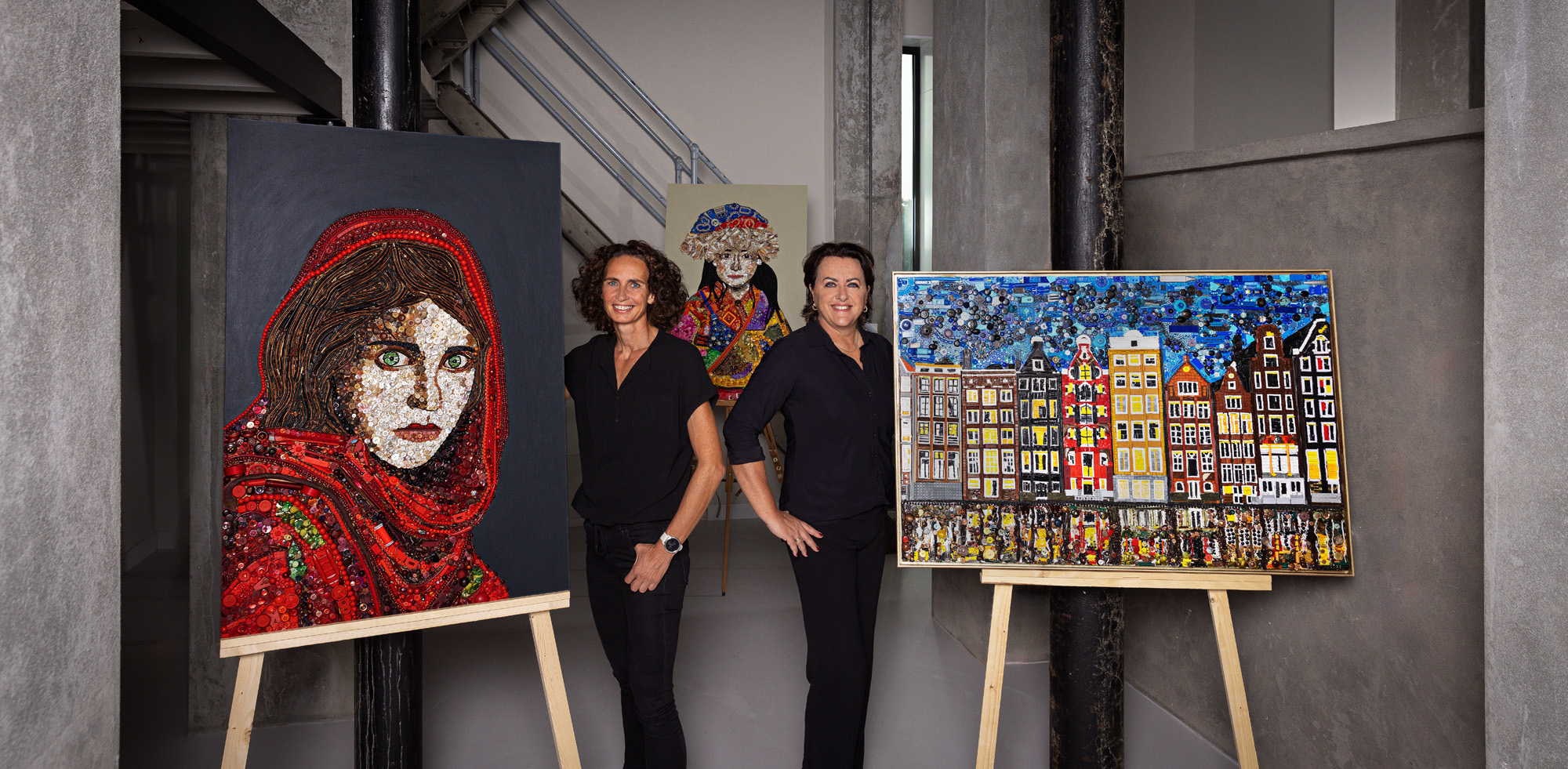 Maaike (right) and Diana (left) have been friends for over 45 years. They met in primary school and became close friends in high school. What they have shared for 45 years is their positive attitude to life, humor, great conversations and creativity.
This creativity was already expressed in high school. Diana's mother could design and make beautiful clothes and that inspired Maaike and Diana to do this too. In the textile arts course they learned about crocheting, knitting and sewing, i.e. everything made from fabric and wool. During drawing class they learned the rudiments of drawing and learned to look carefully at people and objects. During these years, Maaike also took up photography and created a dark room in her attic home to develop and print all photos herself. Maaike has photographed a lot during her travels; people, nature, animals and landscapes.
At the end of 2020 Diana's daughter researched Junk Art for her final exams and came up with the idea to recreate Vermeer's Girl with a Pearl Earring using "junk" she could find around the house. Diana worked closely together with her and was inspired by this form of art. In the recent years Diana has recreated famous portraits out of residual materials.
Maaike has traveled a lot in her life and especially in the last 10 years she had noticed how much waste is spread all over the world. In 2019, Maaike emigrated to Cape Town with her family to run a boutique hotel. During COVID she bought a work of art from a resident of one of the townships. He had made this work of art from all kinds of residual materials that he had found on the street in his township. This inspired Maaike enormously and when she returned to the Netherlands she joined Diana making art from residual materials.
Diana and Maaike create their own works of art. They meet every Friday, not only to discuss their artwork and to inspire each other about new works of art, but also to learn and try out new techniques. Maaike and Diana hope to surprise people with the two layers in their art. From a distance people see a famous image but getting close they discover everyday materials like plastic toys, logo blocks, buttons and beads.
"We like that waste, which is so easily thrown away and replaced in today's society, is given a new life in our works of art. It is a small contribution to our planet and creating a more beautiful world"